Greetings,

Below are our breeding eligible dogs.  Dogs are elgible for breeding after their Penn Hip and 1st year cardiac screen is completed.  Both of these screens must meet acceptable breeding standards.  In some cases our dogs are eligible for first generation offspring normal health screen.  This is an application process in which parentage must be proven through DNA.  First generation offspring result are posted and available through OFA.   

A CHIC certificate is awarded when the following health screens are completed hip, cardiac, eye (cone degeneration and eye exam), and elbow.  These are the primary health screens recommended by the German Shorthaired Pointer Club of America.  CHIC screening is expensive and a lot of work.  It takes several years to complete all the screens.   We continue to work on completing the remaining screens required for a CHIC certificate.  All screens are posted publicaly on OFA's website.  In addition, there maybe direct relatives who also have health screens posted.   
There are VERY few breeders who complete CHIC health screens.  The CHIC number assigned reflects the number of GSP dogs whom completed their CHIC health screens.

Our goal this year is to complete CHIC certificates for Agnes, Nuggy, and Baker.
Lastly, our females have four litters and then are retired.  Retired means they are spayed.

Yoghurt Von Den Donau-Wirbeln, NA Pz I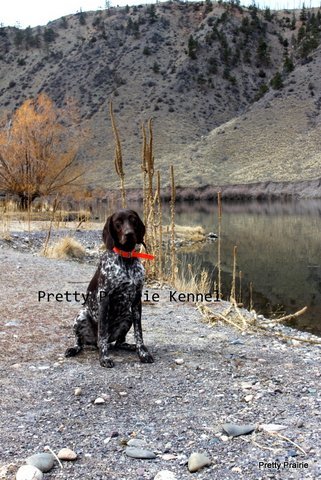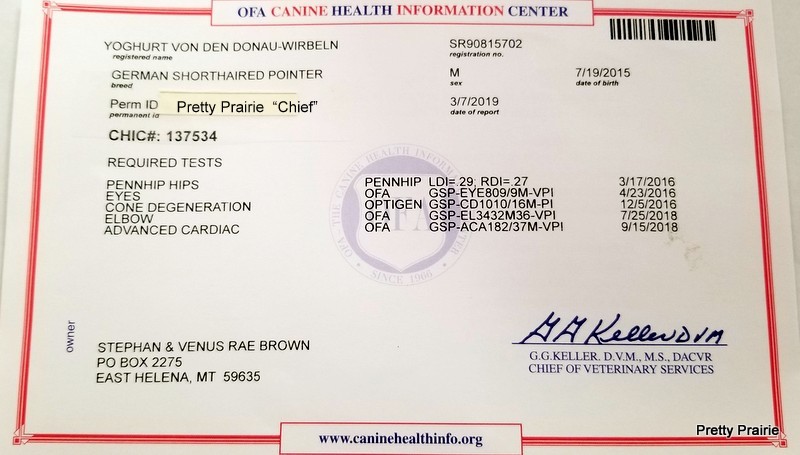 Pretty Prairie Lickety Split Vom Katinka, NA Pz I, 112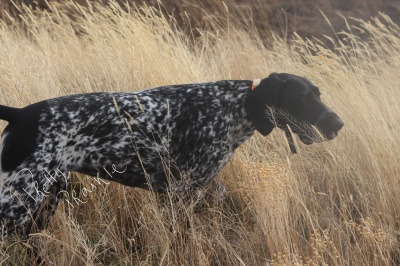 SR98214401 (AKC)

​GS-018736 (NAVHDA)

N S W P T D C

4 4 4 4 4 4 4


Penn Hip:ight DI 0.17 & Left DI 0.19 (Agnes' hips received a higher score than 90% of the GSPs who test through Penn Hip)

OFA 2 year Cardiac Normal by Echo

OFA Cone Degeneration normal by first
Black and White


Sire:  Pretty Prairie's NipN'Tuck Vom Shoco
Dam: Katinka Von Den Donau Wirbeln

Katinka Von Den Donau-Wirblen, NA Pz II, UPT 160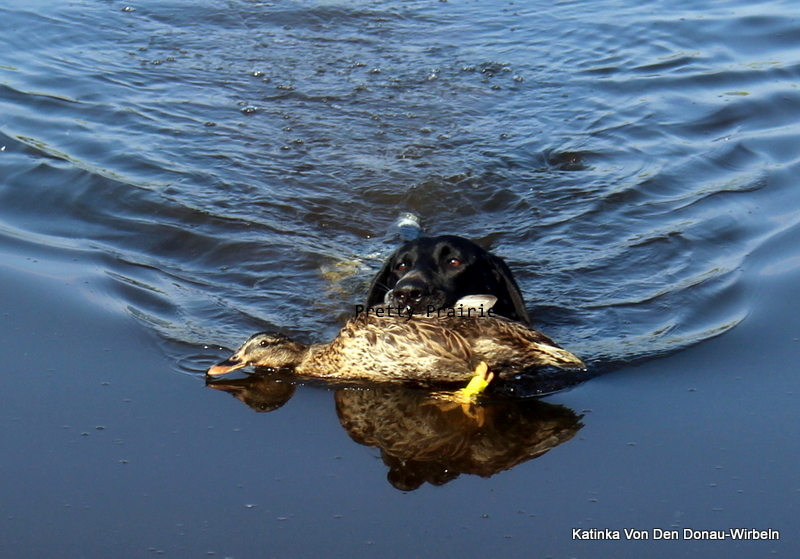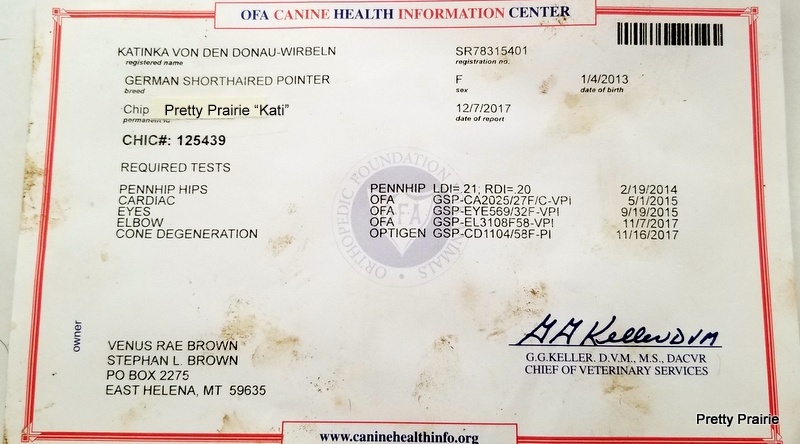 Nuggy Vom Trocken Bach, NA Pz III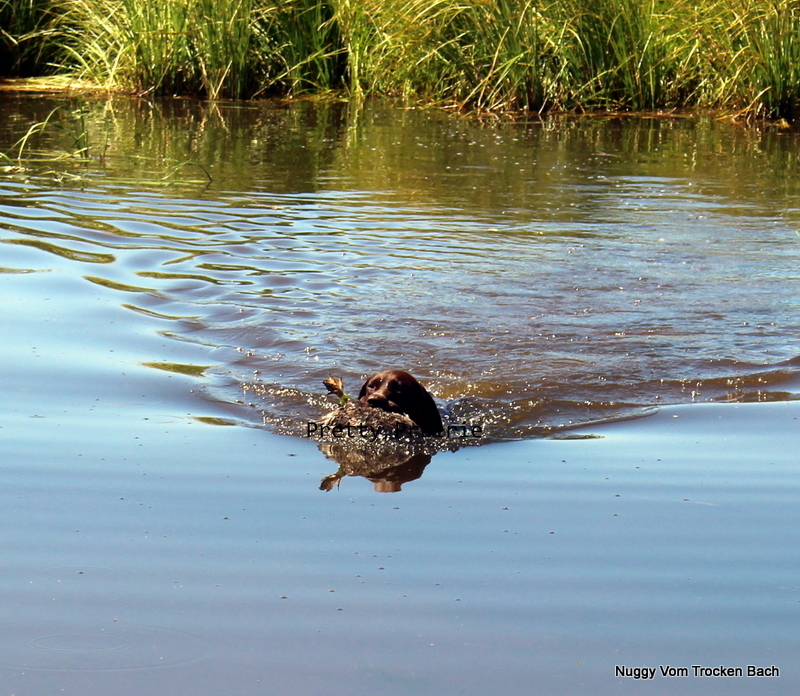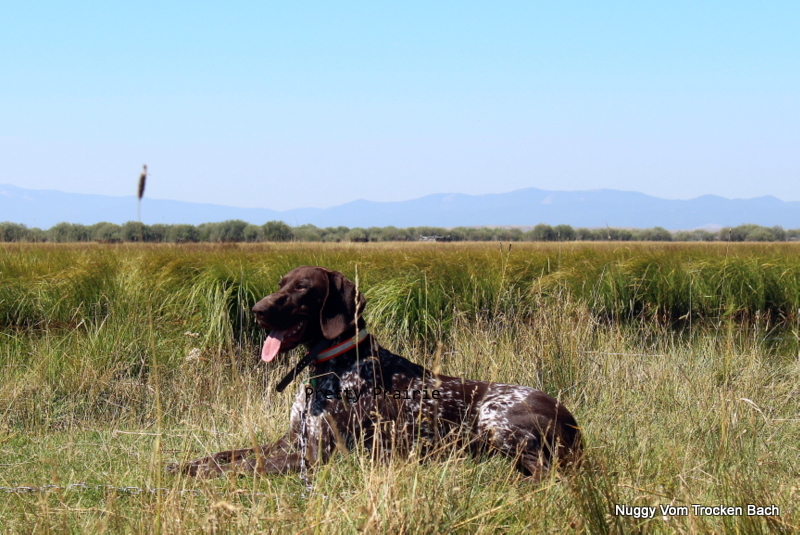 Birth Date:  Mar 31 2014
SR86516901 (AKC)
GS-015486 (NAVHDA)

 N S W P T D C

4 3 4 4 1 4 3

AKC DNA Profiled V777075
Penn Hips Scores LDI=.24; RDI=.26

OFA Advanced Cardiac Normal
Liver and White

Nuggy's pedigree is full Hege-Haus.  Her parents, grandparents etc., are from the oldest breeding in line Europe.
Sire: KS Darwin Vom Hege-Hof
Dam: KS Bessie Vom Trocken Bach
Pretty Prairie's His Girl Friday Vom Shoco, NA Eval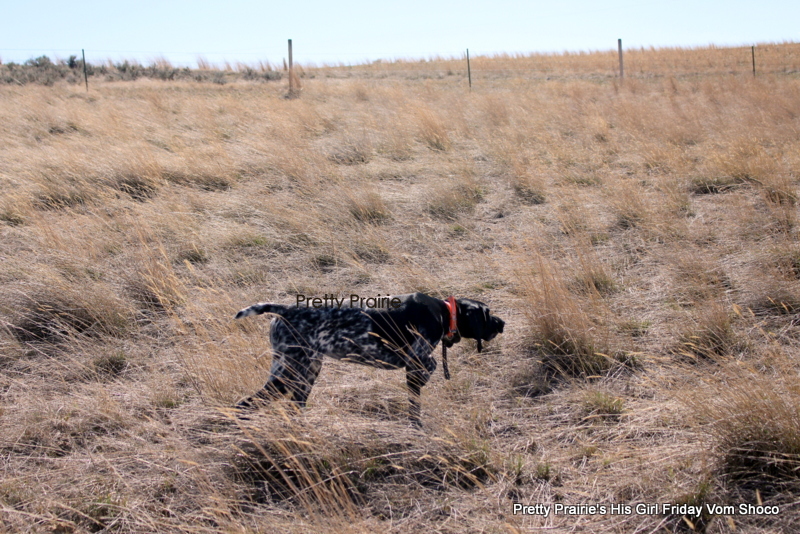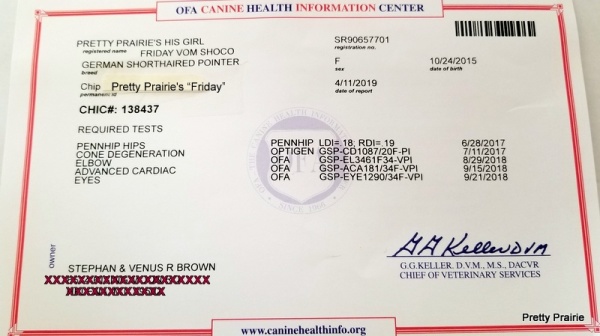 Dracula Von Den Dnau-Wirblen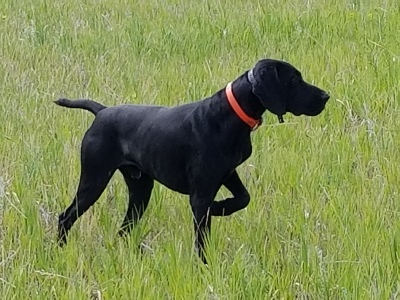 Birth Date:  Oct 2016

AKC registered
NAVHDA registered
AKC DNA Profiled
Penn Hip: Right DI 0.19 & Left DI 0.19 (Ranked in the top 10% of the breed for GSP Penn Hip scores)
​OFA 2 year Cardiac Equivocal

Black
Sire:  Emil Vom Hege-Hof
Dam:  
​Please stay tuned while I finish this posting